Description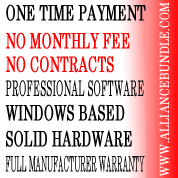 The 15E2 E-Series touchcomputer is an elegant, retail-hardened touch solution with a small footprint, developed to fit into hospitality and retail environments. The compact, ruggedized touchcomputer delivers a 15-inch touchscreen, Intel Celeron dual-core processor, 2GB RAM and 320GB storage. Designed to fit on top of a cash drawer, it can also be wall-or pole-mounted depending on the installation needs. The 15E2 supports third party peripherals through four (4) USB and two (2) serial ports and has a second VGA output to add a second customer-facing display for advertising and customer communication. The connections are all nicely hidden from view in the I/O bay, offering a clean, modern look while avoiding incidental disconnection. The 15E2 touchcomputer is designed for convenient serviceability with easy access to main components. Availablewith IntelliTouch zero-bezel surface acoustic wave (SAW) or AccuTouch micro-bezel 5-wire resistive touch technology, the 15E2 features a sleek glass-to-edge seamless design that is elegant and easy to clean. With no moving parts to wear out, touch response is fast, accurate, and driftfree using a finger, gloved hand, or soft stylus. Pure glass construction allows high light transmission without compromising durability or functionality.
Kit includes:
E058968 15E2 Touchcomputer LCD All-in-One Desktop (AccuTouch, POSReady 7, No Bezel, Black) Intel Celeron Processor J1800 2.41 GHz, 1MB L2 Cache 2GB 320GB HDD
Thermal Receipt Printer
Cash Drawer
Aldelo POS 2013 Pro Edition
This unit can be used as an Aldelo Server
3 YEARS WARRANTY – 1 MONTH FREE CUSTOMER SUPPORT 24/7 from Aldelo
FREE credit card processing integration (requires approval)
Ideal POS Solution for Table Service & Quick Service Restaurants
Aldelo For Restaurants Pro Edition is a low cost, feature rich and easy to use total restaurant management software for table service and quick service restaurants.
Aldelo For Restaurants contains the feature set to support any restaurant environments. Whether your restaurant is a coffee shop, a steak house, a bar & grille, a pizza restaurant, a cafeteria or any other food service establishments, our solution can help streamline your operations by custom tailor to your requirements.
Reliable Solution Proven in the Industry
Aldelo For Restaurants is well received in over 20,000 installations around the world due to its flexibility, ease of use and completeness. Additionaly, our solution is Microsoft Windows XP verified since 2003.
Feature Complete & Easy to Use
Aldelo For Restaurants does not require its users to know about computers in order to use it. In less than a few minutes of tutorial, your staff will be able to start using Aldelo For Restaurants like a pro.
You will greatly reduce staff training expenses with our user friendly screen designs. Best of all, Aldelo For Restaurants is a complete package with POS, Hostess, CRM, Inventory, Labor Control and much more, all included without additional charges.
Key Product Features
100% Touch Operated Point of Sale
Visual Floor Management
Complete Hostess Features such as Reservations, Waiting List & Guest Paging
Advanced CRM such as Gift Card, House Account, Frequent Buyers
CallerID Integration, MapPoint Integration, Coin Dispensor Integration
Labor & Scheduling Management
Menu Recipe Control & Complete Inventory Management
Payment Processing Integration
One Touch Order Split & Combine
Multiple Check Tender Support
Multiple Kitchen Routing Destinations
Ready for Online Food Ordering Integration Ready for Kitchen Display Integration
Ready for Fingerprint Authentication Integration
Ready for Liquor Dispensor System Integration
Ready for Hotel/Resort Room Charge Integration
Extensive Management ReportsAnd much more all included in the standard package!
Simplify Daily Management & Streamline Operations
Aldelo For Restaurants is a solution that may dramatically streamline your daily operations, retain guest loyalty and increase repeat business.
In the world of complex restaurant operations, simplify is the key to your success. Aldelo For Restaurants is designed to help you simplify operations and maximize efficiencies.
Main Menu Screen

Aldelo for Restaurants enables you to access key features with the touch of a button. Best of breed technologies and functionalities are incorporated into Aldelo for Restaurants to help you simplify & maximize.

Table Service POS Screen

Aldelo for Restaurants has extensive features to handle even the most demanding Table Service Restaurants. You can manage tables, perform order splits & combines, apply gratuity, track guest count & control every aspect of order entry process with ease

Quick Service POS Screen

Aldelo for Restaurants is also great for Quick Service Restaurants. Features such as flexible configuration options allow you to custom tailor to any quick service requirements. Best of all, our solution gives you maximum flexibility by allowing you to mix and match table service and quick service POS in the same establishment.

Visual Table Layout Screen

Aldelo for Restaurants has easy to use visual floor management features. Our visual floor management allows our staff to work as a team in order to provide better customer service and increase repeat business.

Hostess Floor View Screen

Aldelo for Restaurants comes with advanced hostess and guest paging features out of the box. You will be able to create reservations, manage waiting lists, track guest preferences, inform waiting customers with guest paging and much more.

Pizza Builder Screen

Aldelo for Restaurants has great support for pizza restaurants. Our pizza ordering screens are optimized for both speed and efficiency. You can apply pizza topping and crust type with just the touch of a button.

Split Order Screen

Splitting orders in Aldelo for Restaurants is easy and fast. Our intuitive split screen allows you to perform split functions in no time. Just point, touch and its done.

Modifier Builder Screen

Aldelo for Restaurants handles both simple and complex menu items with ease. Whether the menu item needs just one touch to order, or those that need complex instructions, your staff will be able to enter orders much faster and more streamlined.

Order Settlement Screen

Aldelo for Restaurants allows your customers flexible tender options. All tenders are tracked for accuracy and accountability. No longer will you need to worry about lost revenue from missing checks.

Back Office Screen

Aldelo for Restaurants places all pertinent management and analysis functions within reach. Access to sales trends and statistics are available with just a simple touch of a button. Menu changes is as easy as point, click and type.

MapPoint Integration Screen

Aldelo For Restaurants enables your delivery drivers to provide efficient delivery service with detailed turn by turn instructions and optimized route planning. Our solution helps you deliver food faster without wrong turns or inefficient routes.
Lite to Pro Edition Comparison Aldelo for Restaurants Lite Edition
Contains a subset of features from the Pro Edition. The Lite Edition is specifically designed for order taking and order settlement in a Take Out and Delivery restaurant. Advanced features such as Labor Control, Customer Management, Recipe and Inventory Control are not available in the Lite Edition
| | | |
| --- | --- | --- |
| | Lite Edition | Pro Edition |
| Standard Features | | |
| Runs on Windows XP or Later | Yes | Yes |
| 100% Touch Operated POS | Yes | Yes |
| Caller ID Integration | Yes | Yes |
| Multilingual User Interfaces | Yes | Yes |
| 30 Days Complimentary Support | Yes | Yes |
| Point of Sale Features | | |
| Easy to Use Order Entry Screens | Yes | Yes |
| Flexible Kitchen & Bar Printing | Yes | Yes |
| Order Splits & Combines | Yes | Yes |
| Order Transfers & Chaining | Yes | Yes |
| Financials Accountability | Yes | Yes |
| Integrated Credit Card Processing | Yes | Yes |
| Discounts & Surcharges | Yes | Yes |
| Automatic Menu Item Price Changes | Yes | Yes |
| Menu Group Scheduling | Yes | Yes |
| Pizza Builders & Modifier Builders | Yes | Yes |
| Forced Modifiers | Yes | Yes |
| Take Out Order Type | Yes | Yes |
| Drive Thru Order Type | Yes | Yes |
| Delivery Order Type | Yes | Yes |
| Delivery Dispatch & Routing | Yes | Yes |
| Visual Map Integration | Yes | Yes |
| Dine In Order Type | | Yes |
| Bar Tab Order Type | | Yes |
| Visual Floor Management | | Yes |
| Reservations & Waiting List | | Yes |
| Guest Paging | | Yes |
| Staff Paging & Manager Alert Paging | | Yes |
| Gift Cards & Store Credits | | Yes |
| Frequent Diners & House Accounts | | Yes |
| VIP Discounts | | Yes |
| Employee Scheduling | | Yes |
| Employee Time Card Management | | Yes |
| Payroll Preparation Report | | Yes |
| Recipe Control | | Yes |
| Inventory Management | | Yes |
| Purchase Orders | | Yes |
| Inventory Shopping List | | Yes |